Issue 02/2023
RDM Trainer Network Meeting 21-22 June 2023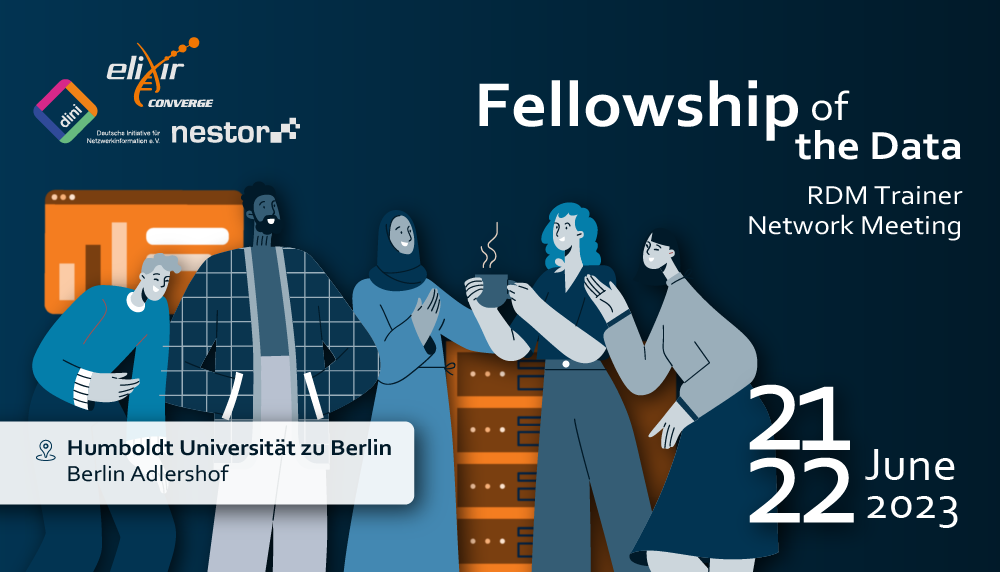 The Research Data Management (RDM) Trainer Community Meeting entitled "Fellowship of the data" will take place on-site in Berlin, Germany, 21-22 June 2023! This RDM Trainer Community Meeting is organized by de.NBI/ELIXIR DE in the framework of ELIXIR-CONVERGE and the Sub-Working Group Training/Further Education of the DINI/nestor WG Research Data. We invite and encourage everyone interested in research data management and training to join us. Get to know and let's grow the RDM trainer community!
The workshop includes networking opportunities, poster sessions, and keynotes by Rabea Müller (The Carpentries) and Sarah Jones (GÉANT/EOSC), who will shed light on recent developments in the RDM community. Our focal topics also include training materials, implementation, and gamification.
Registration is open until 14 June 2023 and the event is free of charge. Please feel free to share this invitation with anyone interested.
Find the agenda and the registration link here. We would be delighted to see you there!
New de.NBI Blog
On 3 May 2023, we have launched the new format de.NBI Blog. After two weeks of launch where we introduce de.NBI and our subdomains, blog entries will be published bi-weekly. With the de.NBI Blog, we want to intensify direct communication with early career scientists. We aim to promote our services, training courses, and other activities to reach greater visibility. Researchers will have the opportunity to communicate their research or bioinformatic tools and demonstrate how de.NBI state-of-the-art services can be used to answer scientific questions. We kindly invite all members to contribute to the blog.
If you are interested in contributing, please write an email to Johanna (This email address is being protected from spambots. You need JavaScript enabled to view it.) for further information. Follow us via the de.NBI website or via twitter or LinkedIn.
Announcement de.NBI Summer School 2023

de.NBI will continue its successful summer school training program with the  de.NBI Summer School on Bio Data Analysis for Life Sciences in Bielefeld from 25-29 September 2023. It is organized by the CAU and Team ELIXIR Officers. The life sciences are an important player in the age of Big Data. Modern high-throughput omics technologies produce large quantities of high-dimensional data. Besides new challenges for analysing and visualising this amount of research data, also the management and sharing has become an important point in the daily research process. The main objective of the 2023 de.NBI Summer School is to give an overview of the possibilities to process, analyse, share, and integrate data by using different open source platforms.
Application will  open on 17 May.
 News on the de.NBI Cloud
Fast and secure provision of compute resources
Due to a recent cyber attack on Helmholtz Munich and the subsequent shutdown of local IT infrastructure for the duration of the investigations, researchers needed computational resources to continue their work. de.NBI Cloud was able to provide the necessary resources and capacities on short notice, therefore allowing continued work on ongoing research with minimal interruption.
Updates on de.NBI Cloud facilities
- The de.NBI Cloud is currently working towards extending its support for SimpleVM projects at the Berlin/Charité cloud site until Q3/2023 and to further extend its support of SimpleVM at the DKFZ site in Heidelberg after that.
- de.NBI Cloud Bielefeld is currently in the process of ordering and updating its storage hardware and will proceed to update its compute server and GPU resource offering in the near future.
Current figures on the de.NBI Cloud: number of users: 2588, number of active projects: 576, number of publications referencing the use of the de.NBI Cloud: 639. This equals an increase of 8% users and 10% active projects, and 14.1% publications, respectively, since February 2023.
 ELIXIR LEadership And Diversity mentoring program (ELEAD Pilot)
ELIXIR DE and ELIXIR ES, as leading nodes, are pleased to announce a new strategic implementation study entitled ELIXIR LEadership And Diversity mentoring program, starting on 1 June 2023. ELEAD aims to increase the number of women in ELIXIR's middle management and to support them to develop leadership skills in line with the values of the ELIXIR community.
The program consists of a mentoring schema that pairs middle management mentees with senior mentors from ELIXIR and its extended network in combination with professional training events and guidance in key leadership skills.
This strategic implementation study is used as a "pilot" project. The experience and results obtained should provide valuable input for the continuation of ELEAD in the upcoming ELIXIR 2024-2028 program. 
 ELIXIR Germany at 2023 All Hands Meeting in Dublin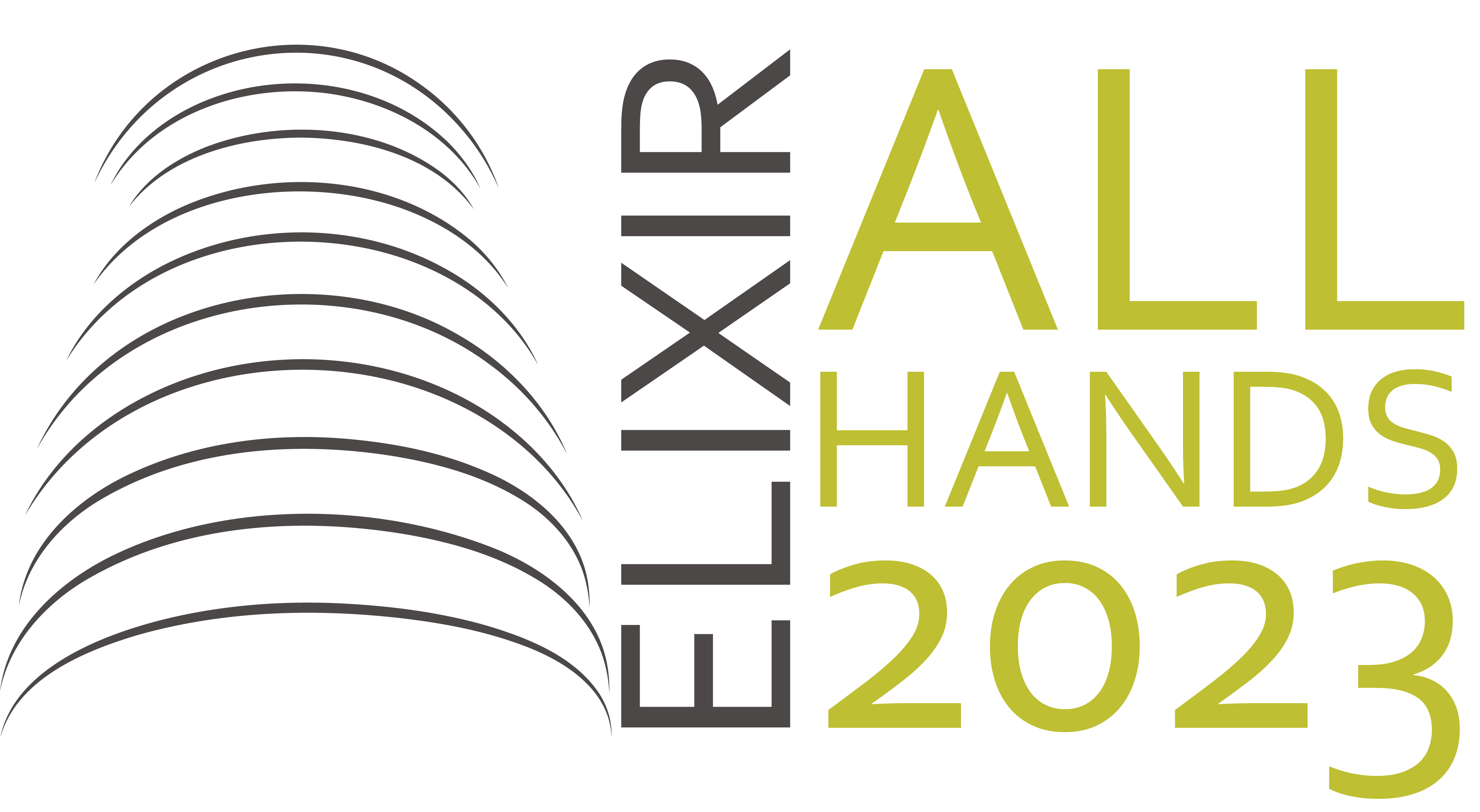 Soon, ELIXIR's most important event of the year, ELIXIR All Hands 2023, will open its doors. This year's ELIXIR All Hands meeting will take place from 5-8 June in Dublin and bring together members of the community from across all ELIXIR Nodes. ELIXIR Germany contributes to the organization and presentation of several symposia, workshops, and posters shown here at a glance. Don't miss the opportunity to meet us in Dublin!

Mini-Symposia:
ELIXIR as a Network of Services (Bérénice Batut) – 06.06.2023; 16:00-17:30
Data & Software - Knowledge Management (Ulrike Wittig) – 06.06.2023; 16:00-17:30
Reproducible Analytics & Infrastructure (Björn Grüning) – 06.06.2023; 16:00-17:30
Develop people and capacity to benefit science and society (Irena Maus) – 07.06.2023; 16:00–17:30
Workshops:
For sustainable Agriculture: Status, Collaborations and Perspectives of the Plant Community within ELIXIR (Sebastian Beier) – 06.06.2023; 09:00–10:30
ELIXIR LEadership And Diversity mentoring programme – ELEAD (Irena Maus, Nils-Christian Lübke) – 06.06.2023; 09:00–10:30
Scaling user support: Galaxy from a service perspective (Björn Grüning) – 06.06.2023; 11:00–12:30
Strengthening connections between the Training Platform and the ELIXIR ecosystem (Daniel Wibberg, Helena Schnitzer) 

– 07.06.2023; 9:00–10:30

Surveying single-cell needs across ELIXIR Communities (Naveed Ishaque) – 07.06.2023; 11:00–12:30

Enhancing Machine Learning Applications for Rare Disease (Nils Hoffmann) – 08.06.2023; 09:00–10:30
The next challenge: data management, submission and FAIRness in multi-omics experiments (Steffen Neumann) – 09.06.2023; 09:00–10:30
Posters:
ELIXIR LEadership And Diversity mentoring programme – ELEAD (Jene et al.)
The Evolution of the de.NBI / ELIXIR-DE training platform in 2023 (Wibberg et al.)
de.NBI-GCBN - The German contribution to the Plant Community of ELIXIR: Services, Training, Cloud Computing (Beier et al.)
The ELIXIR Research Data Management (RDM) Trainer Network - Developing training and sharing knowledge, best practices, and standards (Schnitzer et al.)
Increasing the translational value of public proteomics datasets (Winkelhardt et al.)
Additional posters from the German plant community
BreedFides - Development and practical testing of data trustee model for plant breeding (Lange et al.)
FAIRagro: A community-driven initiative within the German National Research Data Infrastructure (NFDI) to establish an interoperable and scalable data infrastructure for the agrosystem domain (Lange et al.)
 News from de.NBI and ELIXIR DE Office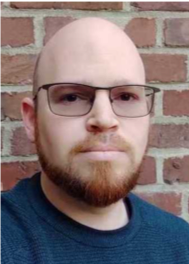 We welcome Sebastian Schaaf, who started his position as ELIXIR DE Officer on February 1st, 2023. Sebastian comes with a background in molecular biology and bioinformatics with focus on sequencing data analysis and scientific IT infrastructures. With research projects in image analysis, data management and semantics, he can draw on broad experiences covering multiple fields in and around computational biology. He has built and developed a private Galaxy instance in the medical field for several years. After activities in information extraction (text mining) and integration (data model design), Sebastian now returns to Galaxy. As a member of the Freiburg Galaxy team (usegalaxy.eu), he is committed to optimizing interactions and infrastructures in research and is looking forward to bringing together given and future resources in the frames of ELIXIR, EOSC and Galaxy.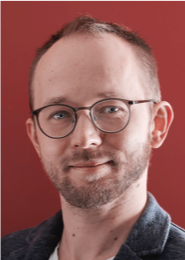 We are also delighted to welcome Leonid Kostrykin to the Team ELIXIR Officers based at Heidelberg University. Leonid received his PhD in computer science from University in 2022 within the group Biomedical Computer Vision. Currently, he is working in the field of image analysis with a focus on developing new globally optimal methods for biomedical applications. As the ELIXIR Officer of the Heidelberg Center for Human Bioinformatics (HD-HuB), his mission is to bring modern image analysis methods to Bioconda and the Galaxy platform, making them accessible to the life sciences.
Spring School 2023 - Data Management Review

The de.NBI Spring School 2023 took place at IPK Gatersleben 13 - 17 March .  
During the course week, 23 participants were introduced to the importance of proper research data management and data management plans in general as well as a practical toolbox for the acquisition, curation, documentation, archiving and publication of research data according to the FAIR (Findable, Accessible, Interoperable and Re-usable) data principles.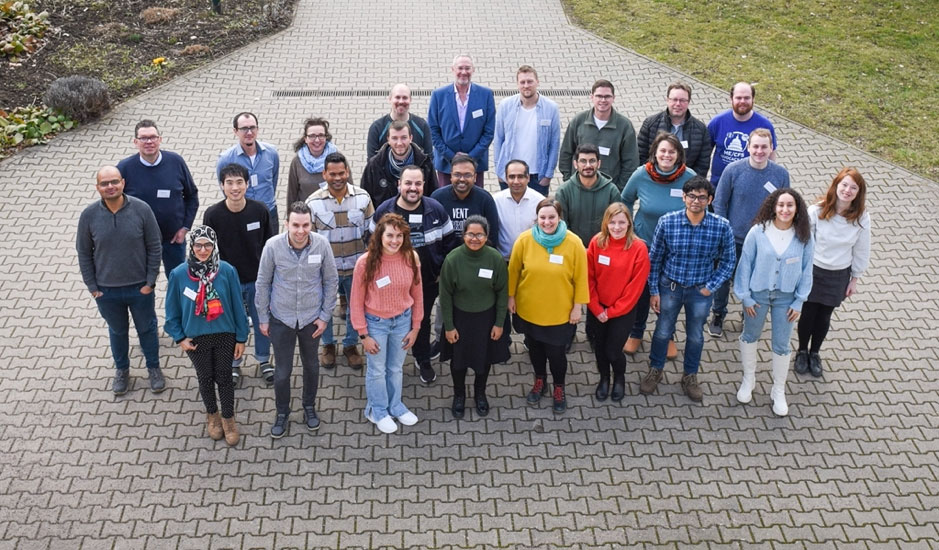 The spring school offered a series of interesting lectures and hands-on sessions by de.NBI speakers and renowned European experts. The keynotes were held by Susan Auer (TU Dresden), Harry Enke (Leibniz-Institut für Astrophysik Potsdam), Jeanne Wilbrandt (Leibniz-Institut für Alternsforschung - Fritz-Lipmann-Institut e.V., Jena) and Mark D. Wilkinson (Universidad Politécnica de Madrid).
2nd Plant Bioinformatics Community Meeting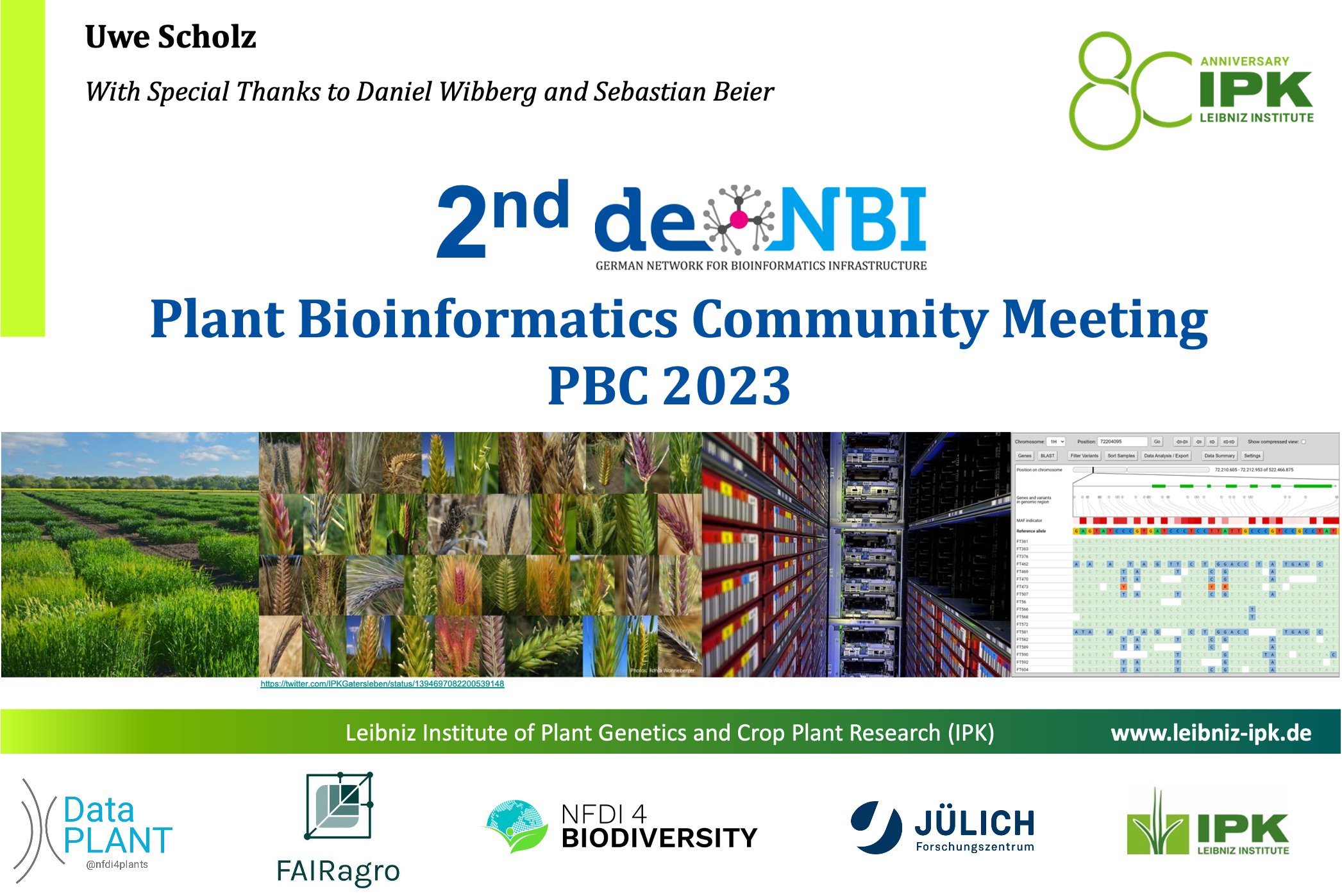 2nd Plant Bioinformatics Community Meeting was held on 22 March 2023 in Potsdam as a satellite event to the annual meeting of the BMBF-funded plant research projects PLANT 2030. The meeting was organized by the GCBN Service Center of de.NBI and had 15 participants. The attendees were introduced to the goals of de.NBI and ELIXIR in general, as well as to services and training provided to plant researchers in particular. Additionally, there was a general introduction to the National Research Data Infrastructure NFDI, as well as presentations from the NFDI consortia related to plant research: DataPLANT, FAIRagro and NFDI4Biodiversity.
 2nd de.NBI and ELIXIR Hackathon for DMP training material
The de.NBI/ELIXIR DE Hackathon for Data Management Plan (DMP) is going into the next round. During the first hackathon in March 2022, a group of 20 specialists from 11 countries generated training material on the topic DMP. This material has already been successfully used in various workshops (GCB 2022, ECCB 2022 and de.NBI Spring School 2023). The units are available upon request at This email address is being protected from spambots. You need JavaScript enabled to view it.. 
The 2nd de.NBI/ELIXIR-DE Hackathon for DMP training material took place on 9 May 2023 within the framework of the ELIXIR-CONVERGE project funded by the European Commission to help standardise life science data management across Europe. To achieve this standardisation, Europe's data management capacity will be strengthened through a comprehensive training programme developed by CONVERGE WP2. The DMP hackathons aim to support this goal by developing new training material for DMP courses, examining gaps and updating existing training material of DMP courses. This workshop aimed at data managers, data stewards, and everyone interested in data management in Germany, ELIXIR and beyond.
de.NBI/ELIXIR DE at the German Biotechnology Days 2023 review
The de.NBI administration office (AO) represented the networks de.NBI and ELIXIR as well as the de.NBI Industrial Forum with an information booth at the German Biotechnology Days 2023 in Wiesbaden on 28-29 March. The conference offered the opportunity for the de.NBI AO to get in touch with emerging trends in biotechnology, discussions about data handling in academia and industry as well as connecting to industrial and academic partners.
The German Biotechnology Days (DBT) 2023 in Wiesbaden, held by BIO Deutschland e.V., established a national forum for the exchange and communication of industrial, political, entrepreneurial and academic stakeholders. The conference was attended by close to 750 participants discussing current topics in biotechnology ranging from digitalization, application of artificial intelligence, skilled shortages, from innovation to application, start-ups, the effect of the climate crisis and many more.
Find more information on the de.NBI profile in the "Exhibition" of the German Biotechnology Days 2023 here. 
 News on Services
Recent updates of services: 
BacDive:  A new tutorial Quick Start is online. 
OpenMS: Updated website
Galaxy training network: A series of new training material available. 
Peptide Shaker:  New Version 2.2.23 with added initial support for displaying the Sage LFQ values (beta).
Alfred: v. 0.2.7: BAM alignment quality control method.
Eurisco: European Search Catalogue for Plant Genetic Resources. National inventories of 5 countries updated
SeqAn: Release of a new version of C++ command line parsing lib: Sharg 1.1.0
rgoslin: Release of version 1.4.0 as part of BioConductor release 3.17.
 Recent Publications by de.NBI partners
Upcoming Events
The next de.NBI training events are announced on www.denbi.de/training.
Next scheduled events:
Impressum
A. Tauch, T. Dammann-Kalinowski
de.NBI - German Network for Bioinformatics Infrastructure c/o
Forschungszentrum Juelich GmbH - IBG-5 Branch Office at Bielefeld University, 33594 Bielefeld, Germany
Phone: +49-(0)521-106-8758
Fax: +49-(0)521-106-89046
Email:This email address is being protected from spambots. You need JavaScript enabled to view it.
If you are interested in receiving regular updates on de.NBI - German Network of Bioinformatics Infrastructure, please subscribe to the de.NBI Quarterly Newsletter here. The mailing list will exclusively be used to distribute the de.NBI Quarterly Newsletter.
To unsubscribe from the de.NBI Quarterly Newsletter, please use the unsubscribe link.
The de.NBI Quarterly Newsletter is a service of de.NBI - German Network for Bioinformatics Infrastructure for members, partners and interested public. All photos are copyright of the de.NBI administration office unless marked otherwise.