Issue 01/2023
 de.NBI Spring School 2023, 13-17 March 2023

The de.NBI Spring School 2023 - Data Management will take place 13-17 March at the IPK Gatersleben. The training event is jointly organized by the Service Centers BioData, BiGi, GCBN and de.NBI-SysBio as well as by the de.NBI/ELIXIR DE Administration Office. Out of numerous applications 28 candidates have been selected and invited to Gatersleben. The goal of this de.NBI Spring School is to raise awareness for the importance of proper research data management (RDM) in general, but also to provide a practical toolbox for the RDM topics data management planning, FAIR data and reproducibility. Furthermore, a practical training on accessing the data for re-use and integration are part of the learning goals. The detailed program is available here. 
 News on the de.NBI Cloud
Naveed Ishaque from the Computational Oncology research group, BIH@Charité — Center for Digital Health provided a new user testimonial on the "de.NBI BioHackathon SpaceHack project". The project was very popular, with over 60 users registered in this project of the 1st BioHackathon Germany 2022. Naveed highlights that "the cloud team were extremely helpful from the early stages of conceptualisation all the way to support after the event."
Current figures on the de.NBI Cloud: number of users: 2396, number of active projects: 520, number of publications referencing the use of the de.NBI Cloud: 560. This equals an increase of 5.6% users and 6% active projects, respectively, since November 2022.
The 5th Cloud User Meeting 2022 took place on 6-7 December 2022 in the central library of the Forschungszentrum Jülich. User presentations by Leyla-Jael Garcia Castro (ZB MED Cologne) and Alexander Sczyrba (Bielefeld University) demonstrated practical applications of the de.NBI Cloud for literature mining and document search, as well as for large-scale metagenomics bioinformatics pipelines. In total, 22 participants joined six training courses on entry-level and advanced cloud topics, such as CWL workflows, Bioconda and Biocontainers, SimpleVM, Ansible, OpenStack and BiBiGrid, as well as Kubernetes.
 Kick-off of the EU project PHENET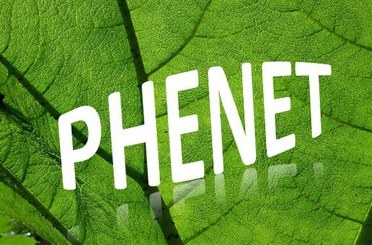 The EU project "PHENET — Tools and methods for extended plant PHENotyping and EnviroTyping services of European Research Infrastructures" started 1 January 2023. In this 5-year project, the European Research Infrastructures (RI) on plant phenotyping (EMPHASIS), ecosystems experimentation (AnaEE), long-term observation (eLTER) and data management and bioinformatics (ELIXIR) will join their forces with a diversity of innovative companies to co-develop new tools and methods for the identification of plant species, genotypes and management practices in front of the most likely climatic scenarios across Europe.
The de.NBI/ELIXIR DE training coordinators Daniel Wibberg and Helena Schnitzer lead the Task 6.1. Training. This task will have two main activities with the focus to train and upskill the community: 1) Designing a training collection, agnostic to the use cases, that will address users´ needs while simultaneously facilitating training delivery to stakeholders external to the project. PHENET partners will be invited to take part in the training design process (through hackathons) and co-delivery of workshops, etc. will be offered. 2) Establishing a plant phenotyping train-the-trainer community, using PHENET as the core, and expanding to engage all relevant stakeholders (initiatives, RIs, organizations, efforts). Eventually, this community will be in charge of maintaining and updating the training material to encompass future efforts/services. The Task 6.1 will deliver four Train-the-Trainer courses across the PHENET community. 
The kick-off meeting took place in Montpellier (FR) on 21-23 February 2023.
  Involvement of ELIXIR Germany in ELIXIR Commissioned Services
ELIXIR Germany is deeply involved in ELIXIR Commissioned Services, which are technical projects that guide future service development, drive standards adoption, and connect ELIXIR Nodes. In 2023, ELIXIR Germany will participate in 20 Implementation Studies (IS) by sharing their knowledge to expand Europe's bioinformatics infrastructure further. Among this list are two new community efforts that started this year, namely the Single-Cell Omics Network for ELIXIR (SCONE) study with participation of Naveed Ishaque (Charité Berlin) and the Systems Biology for ELIXIR (SYBEL) study involving Ulrike Wittig (Heidelberg Institute for Theoretical Studies). Furthermore, a strategic implementation study from the ELIXIR Machine Learning Focus Group entitled "A framework to standardize Machine Learning in Life Sciences" with Nils Hoffmann (ELIXIR DE, Forschungszentrum Jülich) representing the German node was also launched in 2023. As the German node, we are proud to be involved in such a number of ELIXIR Commissioned Services and contribute to developing bioinformatics services alongside our European partners.
Find the full list of IS with German participation here.
BRENDA and BacDive are new Global Core Biodata Resources 
The Global Biodata Coalition (GBC) defines Global Core Biodata Resources representing biodata resources that are of fundamental importance to the wider biological and life sciences community. The GBC aims to ensure sustainable financial support and thus long-term preservation of biological data. Following this strategy, a current list of Global Core Biodata Resources that are crucial for sustaining the broader biodata infrastructure has been identified and published in December 2022. We are more than proud that the de.NBI databases BRENDA and BacDive have been selected in the first set of 37 Global Core Biodata Resources! BRENDA is also an ELIXIR Core Data Resource.
 WIDS series of interviews with female data scientists expanded
In the last edition of the de.NBI Quaterly Newsletter the launch of a new interview series with female data scientists in academia and industry has been announced. In the meantime we have published three new interviews. Find the carreer portraits of Bérénice Batut (ELIXIR DE), Katya Nevedomskaya (Bayer), Christina Taylor (Bayer AG) and Eva Alloza (ELIXIR ES) here. Thank you for sharing your stories and experiences. More contributions will follow.
 Successful 1st BioHackathon Germany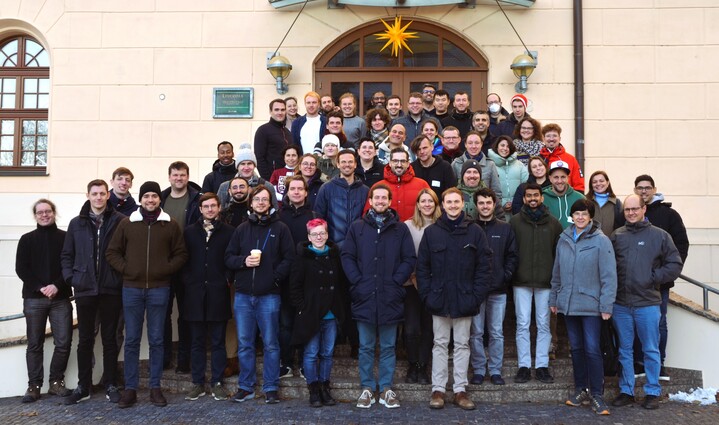 The 1st BioHackathon Germany hosted by de.NBI/ELIXIR DE took place at the Leucorea in Lutherstadt Wittenberg, Germany, from 12-16 December 2022. In this hybrid event 11 hacking projects were carried out with all in all 150 participants, 72 of them on-site. The SpaceHack project — Establishing best practice guidelines for imaging-based spatially resolved transcriptomics data led by Naveed Ishaque (Berlin Institute of Health at the Charité) and Louis Kümmerle (Helmholtz Center Munich) had over 60 active hackers with 30 present at the venue. Several projects made use of de.NBI Cloud resources which was highly appreciated. Find summaries of the SpaceHack project and the Bioshemas4NFDI project led by Steffen Neumann (IPB Halle) and Leyla-Jael Garcia Castro (ZB MED, Cologne) online. The 5-day event was accompanied by a visit to the cosy Wittenberg Christmas market, a guided city tour to historical places of the reformation period, and a party with DJ Tinitus on the last evening giving time for lots ofnetworking.
de.NBI/ELIXIR DE at the CLIB International Conference 2023
de.NBI / ELIXIR Germany showcased the de.NBI network, the de.NBI Industrial Forum, and the ELIXIR DE network at the CLIB International Conference 2023, CIC 2023, held in Düsseldorf on 14-15 February. CLIB is the "Cluster Industrielle Biotechnologie" in North Rhine Westphalia. 
On the first day, the conference focused on "Setting sail for industrial implementation". Stakeholders from academia and industry discussed how biotechnological ideas and innovations could make use of sustainable resources and be upscaled in industrial implementations. The second day of the conference was revolving around "zero-waste biorefinery concepts".
Fruitful discussions and networking opportunities as well as connections and ideas for bioinformatical use cases in industrial settings emerged during the conference. The de.NBI Administration Office is thankful for the opportunity to depict the de.NBI and ELIXIR DE network with an information booth in the industrial environment provided by CLIB.
 Review of the 3rd Annual Meeting of the de.NBI Industrial Forum 
The annual meeting of the de.NBI Industrial Forum with focus on Digital Health took place 24 November 2022. Altogether, more than 50 participants joined the presentations by national and international institutions such as ELIXIR, Berlin Institute of Health (BIH), and EMBL Heidelberg. But also companies from the de.NBI Industrial Forum, Merantix Momentum, Information Technology for Translational Medicine (ITTM), and the Nebion AG – an Immunai Company showcased their activities in the field. The general discussion with selected speakers at the end of the meeting was targeted to the question, which parts of the digital health field are suited for industrial use. Once more, we would like to thank speakers and attendees their contributions and a fruitful discussion. 

Find the complete agenda and abstracts here. 
 News on Services
New de.NBI service:
BIIGLE is a web-based software for image and video annotation that enables collaborative research on large datasets. It offers tools for manual and computer-assisted annotation, quality control and the collaboration on custom taxonomies to describe objects. Publications: 1) Langenkämper D et al. BIIGLE 2.0-browsing and annotating large marine image collections. Frontiers in Marine Science, 2017 4, p.83. https://doi.org/10.3389/fmars.2017.00083. 2) Zurowietz M et al. Current trends and future directions of large scale image and video annotation: Observations from four years of BIIGLE 2.0. Frontiers in Marine Science, 2021, p.1752. https://doi.org/10.3389/fmars.2021.760036
Recent updates of services: 
BRENDA: Release 2023.1 includes 68 new and 479 updated enzyme classes.
COPASI: New release COPASI 4.39 (Build 272) features new GUI and simulation enginge. More info can be found in the changelog.
MassBank: New data release 2022.12. 271 new mass spectra added.
BacDive: A new release is online, providing now data on 93,254 strains. Using vector machine and deep learning algorithms on genomes of 9023 bacterial strains enabled addition of high quality predicted data to the database. Furthermore, new tutorials are available on how to access the BacDive API, use the BacDive API R package and the BacDive API Python package.
 Recent Publications by de.NBI partners
Upcoming Events
The next de.NBI training events are announced on www.denbi.de/training.
Next scheduled events:
Impressum
A. Tauch, T. Dammann-Kalinowski
de.NBI - German Network for Bioinformatics Infrastructure c/o
Forschungszentrum Juelich GmbH - IBG-5 Branch Office at Bielefeld University, 33594 Bielefeld, Germany
Phone: +49-(0)521-106-8758
Fax: +49-(0)521-106-89046
Email:This email address is being protected from spambots. You need JavaScript enabled to view it.
If you are interested in receiving regular updates on de.NBI - German Network of Bioinformatics Infrastructure, please subscribe to the de.NBI Quarterly Newsletter here. The mailing list will exclusively be used to distribute the de.NBI Quarterly Newsletter.
To unsubscribe from the de.NBI Quarterly Newsletter, please use the unsubscribe link.
The de.NBI Quarterly Newsletter is a service of de.NBI - German Network for Bioinformatics Infrastructure for members, partners and interested public. All photos are copyright of the de.NBI administration office unless marked otherwise.