Issue 03/2023
de.NBI Summer School 2023 from 25-29 September 2023

The life sciences are a major player in the age of big data. Modern high-throughput omics technologies generate large amounts of high-dimensional data. Besides new challenges for the analysis and visualization of this amount of research data, its management and sharing has become an important issue in the daily research process. The main objective of the 2023 de.NBI Summer School is to provide an overview of the possibilities to process, analyze, share and integrate data using different open source platforms.
The 8th de.NBI Summer School on Bio Data Analysis for Life Sciences will take place in Bielefeld, Germany. This training event addresses life scientists, bioinformaticians, computer scientists, systems biologists, synthetic biologists and others working with or interested in (bio)research data. The program features lectures and hand-ons about
Hands-on de.NBI Cloud computing
Workflows – Galaxy & CWL
Bioschemas
Introduction to Python
Population genomics or Transcriptomics
The MGX framework for microbial community analysis
Keynote speakers are Björn Grüning (Freiburg University), Nick Juty (Manchester University) and Veit Schwämmle (University of Southern Denmark, Odense).
The Summer School is organized by the de.NBI/ELIXIR DE administration office and the ELIXIR DE Officers at ForschungszentrumJülich.  A total of 20 international participants will be welcomed in Bielefeld.
2nd BioHackathon Germany, 11-15 Dec 2023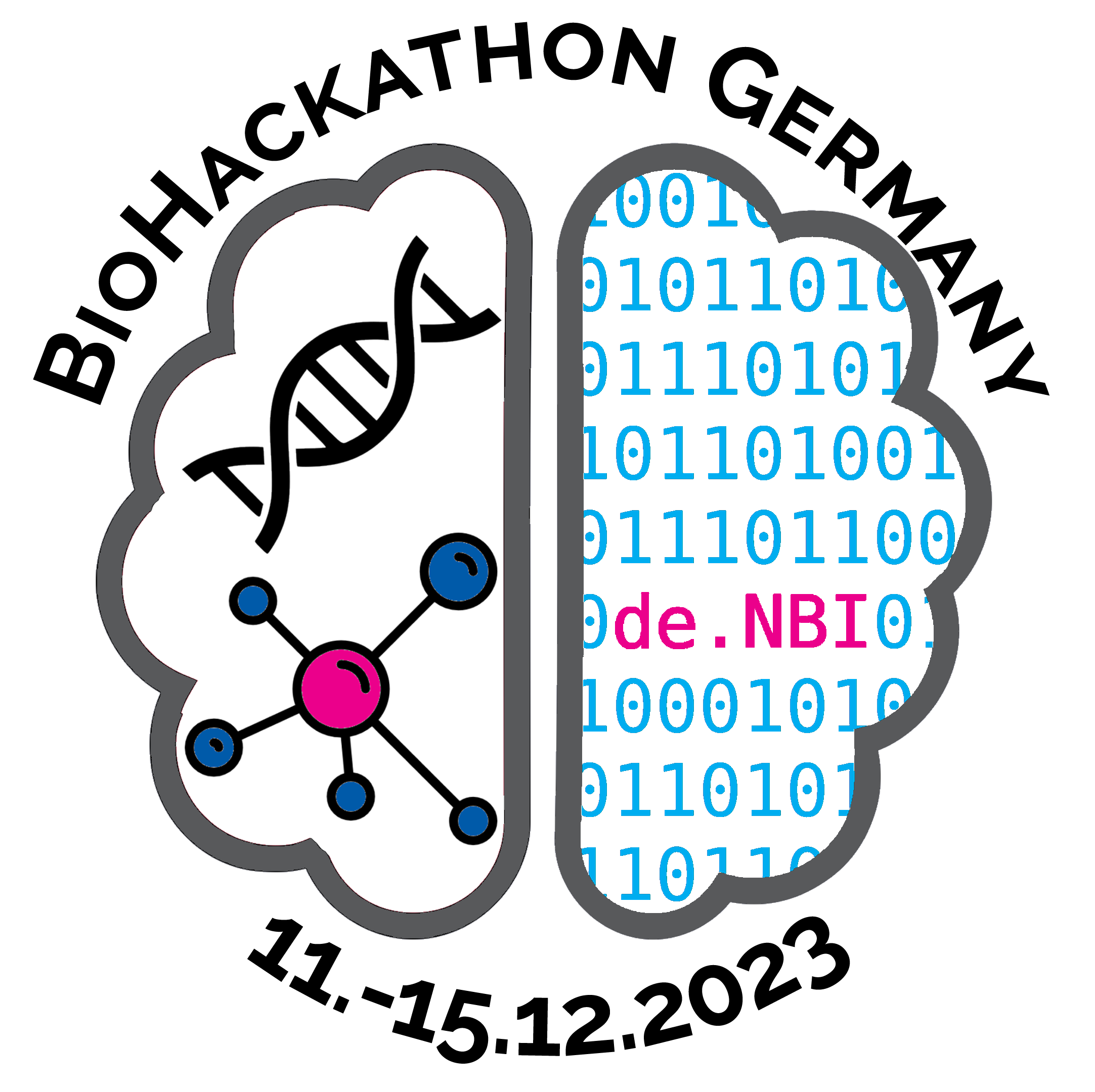 After the success of the first BioHackathon Germany last year in Lutherstadt Wittenberg, de.NBI and ELIXIR Germany are hosting the 2nd BioHackathon Germany 2023 in Bielefeld from 11-15 December 2023. We hope to attract numerous participants from de.NBI, ELIXIR Germany, other ELIXIR nodes as well as other interested parties and would like to encourage industry involvement.
We will offer 11 interesting projects in various areas, e.g. training, single cell omics, Bioschemas, plant bioinformatics, etc. We will offer remote access - available for those who cannot attend the meeting in person. Places for the in-person event are limited, however virtual participation is possible alternatively.
Registration is open until 17 November 2023. Selection of participants will be on a first-come, first-served basis.
 News on the de.NBI Cloud
The 6th de.NBI Cloud User Meeting 2023 will take place as a 3-day event in the second half of November 2023 in Bielefeld. Please check back soon for more information in the near future.
Updates on de.NBI Cloud facilities: The de.NBI Cloud site Bielefeld has passed its second ISMS certification surveilliance audit according to ISO 27001.
Current figures on the de.NBI Cloud: Number of users: 2715, number of active projects: 563, number of publications referencing the use of the de.NBI Cloud: 758. This equals an increase of 4,9% users and 18,6% publications, respectively, since May 2023.
Announcing the Annual Meeting 2023 of the de.NBI Industrial Forum

The 4th Annual Meeting of the de.NBI Industrial Forum will take place virtually Thursday, 23 November 2023. The annual meeting connects academic and industrial stakeholders by giving insights in recent research developments in the Life Sciences and showcasing current industrial topics. This year's meeting will include presentations by academic experts and will feature industrial use cases on "Big Data Handling in the Life Sciences".
More information on the agenda as well as relevant organizational information will soon to be provided here. Save the date!
 News on ELIXIR DE
News from de.NBI and ELIXIR DE Office
We say goodbye to Andreas Tauch, who has left de.NBI and ELIXIR Germany on 30 June. Andreas has been involved in the planning and development of the German Network for Bioinformatics Infrastructure since the beginning of the conception phase in 2014 and has served as head of the de.NBI Administration Office since the start of the BMBF project in March 2015. Simultaneously, he has also tirelessly promoted the establishment of the German Node of ELIXIR, initially as Deputy Head of Node and after finalisation of the entire contract as HoN from June 2020.
On behalf of the entire network, we would like to thank him for his commitment and collegiality and wish him all the best for his future! 

Tanja Dammann-Kalinowski has taken over the lead of the de.NBI Administration Office. The function of the ELIXIR Head of Node is carried out by Deputy HoN Alf Pühler. The management of the ELIXIR Germany office is filled by Irena Maus as ELIXIR Germany Node Coordinator. We are available for all questions from the network.
RDM Trainer Network Meeting - Review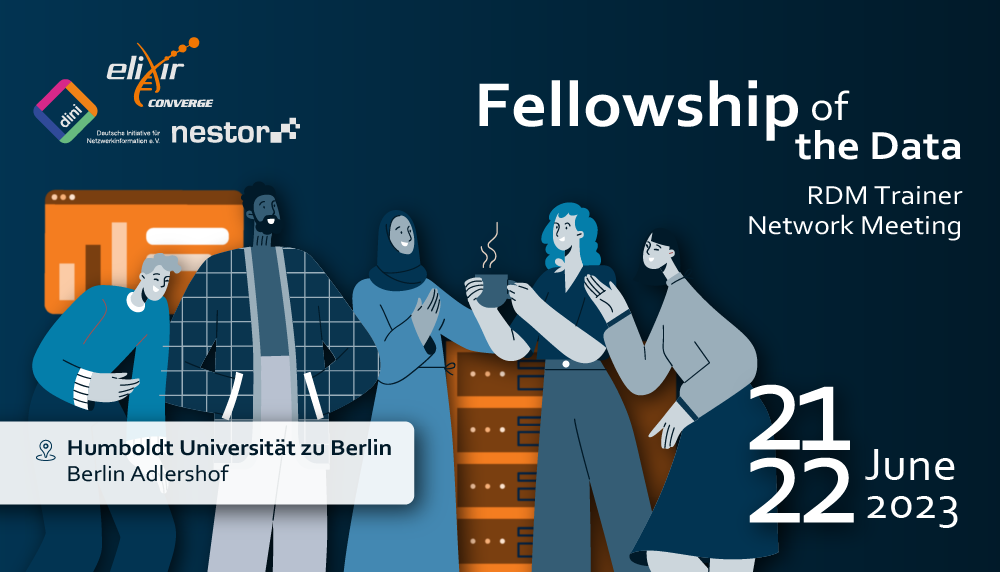 Over 70 international participants attended the "Fellowship of the Data – Research Data Management Trainer Network Meeting" on-site at the Humboldt University, Berlin, 21 to 22 June 2023. The meeting was jointly organised by ELIXIR DE, ELIXIR NO, and ELIXIR UK in the realm of ELIXIR CONVERGE and the sub-working group training/further education of the DINI/nestor WG Research.
Key themes of the event were to explore the broad variety of research data management (RDM) training, to collect and exchange methods of research data management training and to get connected as a community. Thus, the agenda mirrored these efforts by offering time and opportunities to network and discuss as a group in open table exercises, an RDM game night and a poster session with introductory flash talks. As keynotes Sara Jones (GÈANT) introduced "Tips and Tricks" to RDM training while Katrin Frisch (German Research Ombudsman, focus on research data) presented examples and issues of unprofessional or wrongful handling of research data.
The "Fellowship of the Data" meeting will be continued next year 5-7 June 2024 in Jena with ELIXIR DE being once again part of the organisation committee.
de.NBI Blog
In May 2023, we have launched the new format de.NBI Blog, which comprises 12 articles by now. Topics range from indroductions to the de.NBI network, state-of-the-art services, de.NBI Cloud, benefits of training, deciphering soil metagenome data, microscopy image analysis or differential gene expression to investigation of crop plants. It's worth a read!
If you are interested in sharing your experience or describing your tools, please write an email to Johanna (This email address is being protected from spambots. You need JavaScript enabled to view it.) for further information. Follow us via the de.NBI website or via twitter or LinkedIn.
 News on Services
Recent updates of services:
  Recent Publications by de.NBI partners 
    Upcoming Events
The next de.NBI training events are announced on www.denbi.de/training.

Upcoming scheduled events:
Impressum
Responsible for contents:
T. Dammann-Kalinowski, I. Maus, D. Wibberg
de.NBI - German Network for Bioinformatics Infrastructure,
Forschungszentrum Juelich GmbH - IBG-5, Branch Office at Bielefeld University, 33594 Bielefeld, Germany
Phone: +49-(0)521-106-8758
Fax: +49-(0)521-106-89046
Email: This email address is being protected from spambots. You need JavaScript enabled to view it.
If you are interested in receiving regular updates on de.NBI - German Network of Bioinformatics Infrastructure, please subscribe to the de.NBI Quarterly Newsletter here. The mailing list will exclusively be used to distribute the de.NBI Quarterly Newsletter.
To unsubscribe from the de.NBI Quarterly Newsletter, please use the unsubscribe link.
The de.NBI Quarterly Newsletter is a service of de.NBI - German Network for Bioinformatics Infrastructure for members, partners and interested public. All photos are copyright of the de.NBI administration office unless marked otherwise.